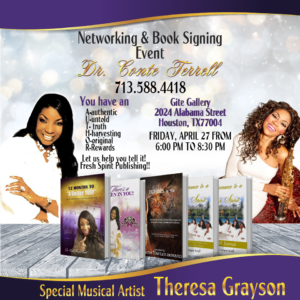 RSVP Today at: http://evite.me/aKFYrJ6jAG
Come network, enjoy great music, food and drinks! Purchase my New International Best Selling book 12 Months to a Better YOU! A portion of the proceeds will help us to continue to offer FREE services at Fresh Spirit Wellness for Women, benefiting survivors of Domestic violence! Also while you are there sign up for a free consultation to get your book published! Hope to see you there!

Lets do this once and for all!!
I challenge you this year to try my Better YOU skills and I promise you will get the life you have been dreaming for!
These skills will not only change your life but with these tried and trusted skills, this year you will finally achieve the realtionships, career and life goals you have been longing for!
LETS DO THIS!!
Let Dr. Conte help you achieve your goals!
Find out the skills she USE AND TEACH!
If you have wondered how she has successfully:
Founded and managed a Non profit organization for 20 years.
Graduated Summa cumlaude a with a doctorial degree.
Authored 4 published books and working on the 5th.
An International speaker, has had her own T.V. show and currently has her own radio show.
The Dr. Conte Show A BETTER YOU! You dont won't to miss these POWERFUL 12 MONTHS SESSIONS!! 
Find out the skills she USE AND TEACH!
LET HER HELP YOU REACH YOUR GOALS!! Don't hate, duplicate what she has done! In these sessions she has created  skills that cut straight to the point, no chasers to the matters that many people need to have counseling or a life coaching for and given you the skills training and exercises that's needed and guaranteed to make you feel good about yourself and begin to see a better you and life! These same skills have helped millions become the success stories you read about! You will get them ALL RIGHT HERE IN THIS WEBINAR TRAINING!
Grab your seat now!